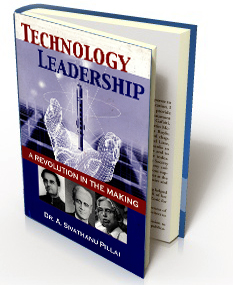 Book's Features:
| | | |
| --- | --- | --- |
| Title | : | Technology Leadership - A Revolution In The Making |
| Author | : | Dr. A S Pillai |
| Publisher | : | TATA McGraw-Hill |
| ISBN-10 | : | 0070583285 |
| ISBN-13 | : | 978-0070583283 |
| Binding | : | Hardcover |
| Number Of Pages | : | 272 |
| Language | : | English |
Short Description:
Part I: Technology and Its Development in the Control Era
Multiple Facets of Technology
Challenges in Building Technological Competence
High Technology Development - The Indian Scenario
Part II: Building High Technologies
Technology Forecasting
Strategy for Development
Methods of Technology Realisation
Technology Collaboration - BrahMos as a Case Study
Combating Failures
Part III: Shaping Future Leaders
Visionary Leaders
Evolution of Future Societies
Technology Revolution and Its Impact on Organisation
New Generation Leadership
Technology is a predominant factor determining the economic and military might of nations and their standing in the world. The happenings of the past century bring out the fact that nations which had technological superiority, made good economic progress and are now in a commanding position. Technological innovation has been the main driving force at the centre of mankind's development since prehistoric times. From the application of early hand tools to facilitate simple daily tasks to the most complex applications of many disciplines, developments in technology has provided routes to advancement. The advent of Knowledge Society in the 21st century has further necessitated the need for building high technology capabilities in a competitive environment. The World Economic Forum has defined competitiveness as "the ability of a national economy to achieve sustained high rates of economic growth." As per the ranking of different countries as of 2003 Finland was ranked first, USA was ranked second, Australia tenth and India was ranked as low as 37th. A large gap therefore exists between the developed countries and India and therefore, there is a need for making determined efforts in bridging the gap if India is to reach the developed status. This book, which gives a comprehensive road map to achieve technology leadership, is an effort in this direction.
The book is an assimilation of author's experiences in working with the SLV-3 and launch vehicle programmes at ISRO, the IGMDP at DRDO and participation in several reviews of different aerospace missions and naval systems in the country and abroad. Above all, the leadership experience gained through BrahMos gave insight to multinational partnership in critical financial and cultural environment. The experiences on high technology project management and leadership on a common platform have resulted in certain generic approaches, which have been proved to be highly successful in the Indian aerospace programmes. A systematic approach leads to a much faster technology realization rather than a slipshod method. Like in any venture, one has to start from the present level. The book started with an overview of technology, the environmental factors impinging on high technology development like control regimes and brain drain and the status of high technology development in India. The strategies for building high technologies with particular emphasis on partnership from the perspective of a developing country and the need for a strong partnership between R&D laboratories, academy and industries which is essential to give the necessary scientific and technological strength to the nation are dealt in the second part. This part also deals with different methods for technology realization including measurement and entritesy.
A good strategy together with measurement and control techniques by itself cannot guarantee accomplishment of project objectives. A vision coupled with an able leadership is necessary. Therefore, the last part has dealt with the aspect of visionary leadership, societal transformation, impact of technology revolution in the organization and future revolution in leadership.
In a dynamic changing scenario, the proper management of technology development is a challenge before technology managers. Based on the experience of the high technology development, the following guidelines can be summarized to stimulate the growth of technologies.
Click Here For List of All Books