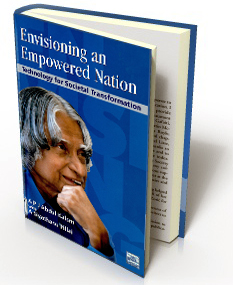 Book's Features:
| | | |
| --- | --- | --- |
| Title | : | Envisioning an Empowered Nation: Technology for Societal Transformation |
| Author | : | APJ Abdul Kalam With A Sivathanu Pillai |
| Publisher | : | TATA McGraw-Hill |
| ISBN-10 | : | 0070531544 |
| ISBN-13 | : | 978-0070531543 |
| Binding | : | Hardcover |
| Number Of Pages | : | 255 |
| Language | : | English |
Short Description:
The aspiration of young minds to make the nation great is evident. It is important to recognise that India has a population of 700 million young minds. This is a large force which needs to be harnessed constructively towards a singular mission of making India a developed country. Like the young, every citizen of India would like to live in a happy, prosperous, peaceful and safe India.
The beauty of India can be seen in the deserts, mountains, seashores, forests and in the fields. India has a rich civilization, heritage, resource, talented workforce and above all there is potential due to the emergence of knowledge society. Still 26% of our population is below the poverty line, and illiteracy and large scale unemployment persists. While it is imperative to address these problems, it is also necessary to increase the economic growth. This can be achieved by an effective management of resources and manpower – our core competencies.
In recent years, technology has come to play a dominant role in improving the quality of life. Technology is the engine capable of driving a nation towards growth and prosperity, and giving it the necessary competitive edge in the comity of nations. Technology, thus, has an important role to play in transforming India into a developed country.
In the last few years, there have been significant developments and technological revolutions. Now a consensus has emerged in all the sections of the society, particularly among the youth and children, to live in a Developed Indian and take appropriate actions. Even the Indian families living abroad have expressed their desire to participate in missions to transform India into a developed nation. In this regard, a view has been felt to write this book. This book goes into specific details pertaining to the impact of technology on society, and the missions leading to a developed India by 2020.
Today, India has core competence in system design, system engineering, system integration and system management of launch vehicles, missiles and aircraft, and capabilities for developing critical technologies. This book brings out these aspects in an integrated manner through two important case studies on the design of a launch vehicle and a guided missile.
India has many successful experiences of managing mission mode programmes. We recognise the importance of technology and the role that it can play while formulating policies and implementing programmes in mission mode. Today, the requirement is to create a suitable environment in tune with the times, and India's transformation into a knowledge society. For harnessing the potential of the youth and the resources, creative leadership is essential.
Networking of thoughts and deeds of one billion people towards a common goal of making India a developed nation is indeed the need of the hour.
Click Here For List of All Books