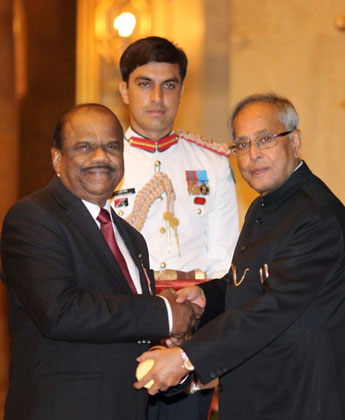 NEW DELHI (BNS): Dr. A S Pillai, Distinguished Scientist, CEO and MD, BrahMos Aerospace, was on Saturday conferred the 'Padma Bhushan' by President Pranab Mukherjee for his contribution to the country's cruise missile programme.
The list of honours was announced on the eve of the 64th Republic day celebrations in January this year.
Under the leadership of Dr. Pillai, the Indian- Russian Joint Venture BrahMos Aerospace has achieved tremendous success since its inception in 1998.
The BRAHMOS supersonic missile has been inducted into the Indian Army and Navy. Recently the submarine-launched version of the missile was successfully test-fired.
Prior to taking over the BrahMos JV, the distinguished scientist was associated with the Integrated Guided Missile Development Programme (IGMDP). He was the Programme Director of the ballistic missiles--Agni, Prithvi, Nag and Akash.
He has also worked under eminent scientists such as Vikram Sarabhai and Satish Dhawan in Indian Space Research Organistaion (ISRO) and was associated with the evolution of the PSLV programme.
Dr. Pillai is a recipient of many awards and honours. In 2002, he was awarded the Padma Shri for his contribution to aerospace and missile technologies. The Moscow University honoured him with the Order of the Peter the Great and the Academician of the University.