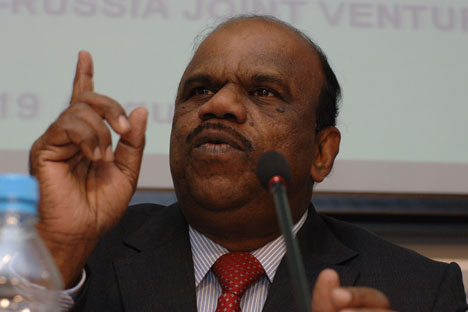 The buzzwords at Defexpo India-2014 are 'joint production.' BrahMos Aerospace, which is a joint venture set up by Russia and India, has set the standards on future cooperation between New Delhi and foreign partners. Sivathanu Pillai, Chief Executive BrahMos Aerospace, who was conferred the 'Order of Friendship,' by Russian President Vladimir Putin, talks about the prospects for the supersonic missile, India's new defence procurement policy and how Russians and Indians can use their brainpower to create a new kind of weapon.
What are in your opinion are the main objectives of Defexpo India 2014?
There are two objectives of this exhibition. It is being conducted in India and particularly in the capital. It is a very vibrant city from the defence point of view. We have to expose our technological competence and our partnership with industry. So we are working with a number of industries in India. They are contributing in a big way for production, investing their funds for expanding the facilities and infrastructure build-up. We have to recognise them. That is the first aim.
Rosoboronexport looks to expand India cooperation at Defexpo-2014
The second objective is to attract the foreign customers. By foreign customers, I mean that Defexpo India is being attended by some of the ministers and chiefs of Southeast Asia. We get a response from some other countries, particularly from the CIS and Middle East. So we are interested in attracting those customers.
What is BrahMos showcasing at Defexpo India?
This time, in addition to our normal exposition of our land and sea capability, we are adding two important elements. One is the progress on the BrahMos to be launched from Sukhoi, how far we have come and what are the capabilities we have built and what way it will make a change.
The second thing is that we need to develop a supersonic missile, unlike the present BrahMos size, a reduced size which will have capability to be added into many platforms. For example if the diameter is reduced to 500 millimetres, it can go in the tube of the submarine. A number of them can be put in the Sukhois and so one present one and we can put it in many platforms.
Our target is fifth generation aircraft which is also a joint venture with Russia. That type of aircraft is going to produced in large numbers both in India and Russia. Why not we make a missile suitable to be carried by the fifth generation aircraft? This we want to show.
What exactly would it be?
The full scale model of the new missile, which is going to be developed.
When is the first flight test to be expected?
We have just started. We have got the approval of our board of directors to start the design work. We are now currently in the process of finalising the specifications and the design. Probably in three years' time, we will be showing the flight test.
Second thing that you mentioned is a progress on Sukhoi integration with BrahMos. So what is the progress on this?
We have made a big breakthrough in the modification of the aircraft, the structural modification and the integration of launcher and the missile. We have made an instrumented missile with similarity in the same weight, similarity in the same size and we have modified the aircraft. Now we are trying to integrate both of them to see the perfect matching. Once that process is over, we will be flying the aircraft with that carriage load.
We are first attempting to prove the safety of the aircraft. That is what we are currently doing and we have made a lot of progress on that. In another two to three months time, we will be flying the aircraft with the system, with the instrumented missile.
Second important thing is that you need to develop the whole cockpit modified with the software, with the machine computer and for the pilot to enable the operation. That process is tried out successfully in the simulator and with that progress, we will be in a position to put pilot in the loop. We have started the training of the pilots to do this work.
The third important thing is you need to have the fire control system integrated with the launcher and the missile. This integration of the fire control system on the launcher and the missile, the whole thing has been done.
BrahMos missiles substantially increase strike capacity of India's armed forces
The fourth thing is you have to release the missile. The missile is released from the aircraft, so the release mechanism has to be evaluated. So currently, we are doing this work at an industrial unit in Trivandrum. They have made the launcher and the release mechanism has been integrated into the launcher and the whole load of the missile is put there and they are doing the trials on the release mechanism.
So once these all the four components are ready, we will be in a position to do the missile release and fire. Here again is the target. For the last quarter of the year, we are targeting to fly the missile from the aircraft.
I got the news that Vietnam is very interested in purchasing the BrahMos missiles? Could you confirm?
No there is nothing like that. Today, we are not doing that. What you are saying is news to me.
You mean there are no negotiations with foreign countries are going on?
The Indian government has not done any negotiations with any country for BrahMos, neither has the Russian government. These two governments have left it to us and we have to do that but we are at the beginning stage. We have not finalised anything.
Does it mean that in the next one ortwo years, there will be no purchases of BrahMos by any foreign country?
No, not like that. Do not make wrong conclusions. We will give you a surprise. That is all. You understand, we will give you a surprise, we will not tell you now.
BrahMos Aerospace Private Limited is a pioneer in joint ventures between India and foreign countries. Are there any other prospective areas where joint ventures could be established?
I see a great potential in this because in the last 15 years of working with Russia, I can say we are good friends. We believe each other and we do not cheat each other. Suppose we take some technology, we are not trying to misuse that technology or multiply that technology in different ways. We honestly believe the cooperation has to continue with the same spirit. This type of feeling is there in the Indian and Russian minds and the way the technology is moving up, technology needs good people, brainy people. In my analysis of the whole world, after studying in Harvard Business School, after going to all countries, I can tell you that best brains are Indians and Russians because I have seen them.
See, the origin of brainpower comes in mathematics. Who are the best people in mathematics in the world? The whole mathematics from zero onwards, binary numbers and pie, algebra, trigonometry came from India. The best algorithms, the mathematics and periodic table have come from Russia. I am convinced that best brains can make new type of algorithms, the brainpower is very high. These people should join together. If you ask me where the joint venture possibility is; it is to find a new arena of warfare using mind power, use mind power as the source to go for a new type of weapon.
I want to introduce a new concept. This is possible if you join together. I am not talking about conventional things. Anybody can do conventional things. Any two countries can join together and do it
The lesson we got from BrahMos is you can join together and make a weapon which is not available in the developed world. You can become a leader. The two forces join together. So you should also use the best effort, brains of two countries to make something which is not contemplated by anyone.
You have had huge experience working with Sukhoi. What are your feelings about this fighter plane?
This is one of the finest aircraft with a high manoeuvrability. So Sukhoi is one of the top most deep penetration strike aircraft with refuel capability to go for a long distance. There is no other equivalent aircraft.
There will be a seminar titled 'Indigenisation of Defence Procurement: Global Partnerships Towards Joint Development and Indigenisation' along with Defexpo India 2014. How is this "Indigenisation" going in India?
When we started building up our industrial base, there was no one to invest from the private sector. The government had to create these industries, they are called the public sector industries, PSUs. They created HAL for aircraft, electronics, Bharat Electronics, missile, BDL, ordinance factories. That was a time when we needed weapons because in 1962, there was a war, India-China war and suddenly we got into a problem and there was no weapon available.
We had to get them from Russia. Russia gave us lot of technology to produce in India through their PSUs, it was working but after 50 years of our independence if you take, after 1962, today, our industries have grown, private industries have grown whereas public sector industries you see the efficiency has come down.
The private sector is coming up in a big way but they are looking for a market. The policy of our government was not encouraging private sector to go in a big way so far. Honourable Defence Minister Mr. Antony has taken special effort to bring more indigenous systems so that many players can come. Slowly, the concept of private sector integration is taking place and if you see the DPP 13, it gives more weightage to production in India. So if that is the approach and if we continue this further, the Indian industries have got a big role to play.
So when India would be ready to fulfil all of its needs in defence products by itself?
Actually we should not declare that India will be producing everything domestically. It is not correct. Today, you are trying to make combinations of the efforts between the countries to make the best. If India has to do everything and build everything, it will take more time to build industries, build technology or anything. If that is the approach, India will be lagging behind the big countries. If India has to get hold of the position of number one in the world, India has to have partners. That is why this joint venture like BrahMos has helped India to move up. We should not forget about this fact that joint ventures with like-minded countries are the benefit to the country. We should not forget about it. We should not think of that everything should be produced in India with our own effort keeping away all other countries. It is a democratic country. We have got good policies. There are many people who want to come.
Recently the US said, like BrahMos it want a joint venture. They were told that we are not interested in making hotchpotch arrangement of the joint ventures. The joint ventures must break new technologies, upgrade that technological competence of the country. That way if you do joint ventures, it will be beneficial to the country to leapfrog.
Demand high technology if you have to go for joint ventures. Do not import systems but go for joint ventures. Go in a big way to build the military industry complex. In 10 years' time, India would have become a good very competent country.
The Indian government is set to issue the tender for P 75 I submarine. Would be one of the conditions to the participants that these submarines would have to be equipped with BrahMos missiles?
BrahMos today is the weapon with the most potential for our Indian Navy. Indian Navy has accepted this and it is being put in all the ships.
We recently experimented with the concept of salvo. The idea is to prove that we do not have to wait and that we can simultaneously fire eight missiles with a gap of three seconds and all eight targets will be hit at almost the same time. This will completely perplex the enemy. This capability is available with BrahMos. If it can be launched like this from submarine, you will see the underwater form, which we have approved already. Eight missiles come from underwater and eight targets! Now, what are the targets? Each missile is capable of hitting sea target as well a land target. This is the only missile in the world which has got the capability to attack sea target as well as land target.
You can feed all the target positions in the fire control system whether it is land or sea and tell the missile to go all the way. This capability if it is coming from submarine, there is no enemy for us. That is why we are telling P75 I should have BrahMos vertically launched.
Are you planning to sign any agreements during Defexpo India 2014?
On February 12, 1998, we signed an agreement with Russia for 15 years with a provision to extend it for one year. So it will be completed on 12th February 2014. Before that, we have to sign an agreement again extending this one. Now both the governments have considered and they have cleared for signing.
It will be the same agreement that was signed at that time?
Yes same thing but it will be continuous. Every year it will get automatically extended. That means indefinitely we are extending the joint venture. As long as both the people like each other... Forever, no last date. It is like marriage.
How do you feel about the future of public private partnership in defence production here?
It is very bright because everyone feels that the future is only in the public private partnership and people are talking, not implementing but we are implementers. This experience is the most wonderful experience because when we go to a PSU, government has to invest on the infrastructure and when you go to the private sector, it makes the investment. So when such an opportunity comes free, why government should not agree to that?
Source:Russia & India Report