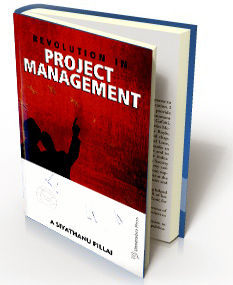 Book's Features:
| | | |
| --- | --- | --- |
| Title | : | Revolution in Project Management |
| Author | : | Dr. A S Pillai |
| Publisher | : | Orient Blackswan |
| ISBN-10 | : | 8173716838 |
| ISBN-13 | : | 978-8173716836 |
| Binding | : | Paperback |
| Number Of Pages | : | 252 |
| Language | : | English |
Short Description:
In this rapidly progressing world of today, projects are being taken up in ever increasing numbers for the progress of mankind. Projects are also getting increasingly complex with rapid technological change and customer preferences. However, all projects are not successful, resulting in drain of scarce resources and low levels of motivation. This leads us to think of ways and means of ensuring how projects can be turned into success. We also need to identify corrective actions before it is too late. The book addresses this aspect and presents a model to evaluate project success on an ongoing basis. Before examining the details of the model, we need to discuss the parameters which decide a project's success in terms of project environment.
We see a significant change in the scenario in which projects are being set up, in today's competitive environment. With the advent of new technologies and systems, customers are demanding a wide variety of goods and services of high quality, and in shortest possible time. Technology generation through R&D products has been a new source of competition in the world-sphere, headed mainly by Japan. Development of high quality products that satisfies the customer's expectation in every respect, faster, more efficiently and at a competitive price has become essential for survival. This has resulted in the emergence of various new strategies to reduce the time frame, from design to marketing of new products. Concurrent Engineering is one such process in appropriate disciplines are committed to work interactively – to conceive, approve, develop, and implement product programs that meet pre-determined objectives. It is a relatively recent term applied to the engineering design philosophy of cross-functional cooperation, in order to create products which are better, cheaper, and enter the market faster.
Several books of project management can be found which deal independently with different aspects like Financial Viability, PERT/ CPM Techniques, Project Leadership, Team Building, etc, but in none of these, are all success criteria linked together to give a holistic index. Over the years, several models have evolved and are available in the literature of R&D project management, and particularly, in the decades following World War II, new models of working have been introduced. Hundreds of models have been developed in the 70s and 80s on R&D project selection and initial project appraisal. Similarly, considerable amount of literature has been published in the areas of tools for planning, monitoring and controlling of R&D projects. However, all these models are specific to an application/ functional area and there is no integrated model available, which can provide a total view of the project. This is because the techniques described were developed to meet the requirements of a particular firm or industry and cannot be applied to other industries. The aim of this book is, therefore, to present an Integrated Project Performance Index that covers success criteria during the life-cycle stages of projects which can be applied to a wide variety of situations.
It is hoped that the Integrated Project Performance Index indeed would be a beneficial tool for project monitoring, analysis and control in any given situation, particularly in high technology projects involving many stakeholders in a concurrent engineering environment and also involving many disciplines and geographical locations. This book would be also helpful for project professionals and students aspiring to be successful project managers.
Click Here For List of All Books