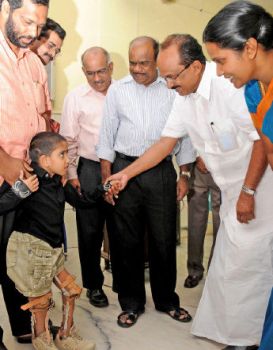 KOCHI: Quoting former President A.P.J. Abdul Kalam as to what made him the happiest, A. Sivathanu Pillai, Chief Controller of DRDO, said on Thursday that it was the tears of joy of the parents who saw their polio-affected child walking with the callipers made from the composite material made for missile technology, that gave him a feeling of fulfilment.
A spin-off of the defence technology that was started by the former President during his tenure at the Defence Research and Development Organisation, over 24,000 callipers have been distributed so far. "We need more NGOs and other funding organisations that can help us reach out to all those who need them", said Dr. Pillai at a camp held at the General Hospital here on Thursday to distribute the callipers.
The DRDO is going to come up with making a flexible knee in the next stage, he said. This is being done in association with the IIT, Delhi and will be ready for production in about six months.
The DRDO has been conducting camps for distributing the callipers across the country. These callipers have the advantage of being rather light weight (less than 1 kg) compared to the metal version that weighs around 3 kg. In fact, the weight of the Floor Reaction Orthosis (FRO) used in a calliper is only 300 gm.
Seven standard sizes are being made by ALIMCO in Kanpur using DRDO technology. However, two sizes (more of adult size) have a mass production. As fewer children are infected with polio now, the number of callipers made for children is lower.
A polio-affected child less than 10 years of age is rare, especially in Kerala, he said pointing to the single child at the camp.
There are over 60 lakh polio-affected people in the country and 10 lakh of them are children, said Dr. Pillai. The cost of the FRO callipers is also low as Rs. 800 compared to Rs. 1,500 made of other material.
Dr. Pillai said the DRDO is also helping Thailand, Laos and Cambodia by providing these callipers at Rs. 1,000.
The camp was organised by the Indian Association of Physical Medicine and Rehabilitation, central zone, Kerala chapter. K.V. Thomas, MLA, inaugurated the function. District Collector M. Beena, S. Ananthanarayanan, Director, NPOL, Jacob Paulose, Y's Men International (which funded the distribution of callipers), Roy Thomas, general secretary, Indian Association of Physical Medicine, T.P. Aruvi, Resident Medical Officer and Mayank Dwivedi, DRDO, participated in the function.
Source: http://www.hindu.com/2008/10/31/stories/2008103159410300.htm