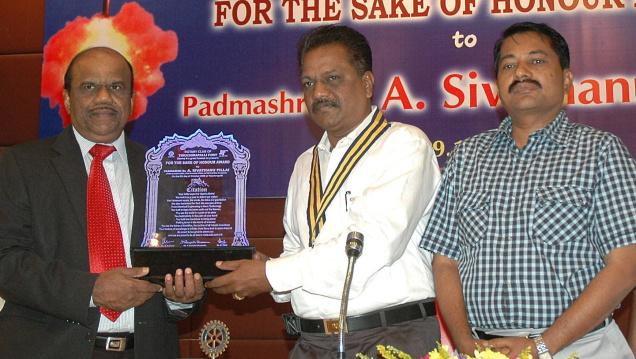 The Chief Executive Officer and Managing Director BrahMos Aerospace Dr. A. Sivathanu Pillai was conferred the 'For the Sake of Honour Award' by the Rotary Club of Tiruchi Fort here on Friday.
The president of the Club M. Sivakumar presented the award to Dr. Sivathanu Pillai, also the Chief Controller, Defence Research Development Organisation, at a function attended by the District Collector T. Soundiah and Rotary Club members.
Making a presentation on the topic 'Technology Application for Development Mission', before accepting the award, Mr. Pillai said nuclear and defence technologies had had its own spin offs. These technologies had been utilised in health care, development of light weight callipers and typhoid testing kits, for the benefit of the people.
Thanks to the rapid growth of information and communications technology over the years and electronic connectivity, over 300 hospitals across the country were connected to super speciality hospitals today.
Technology had ushered in fundamental changes in the society bringing about competitiveness and prosperity, he said. A revolution through nano technology would come in the near future, Mr. Pillai said. He thanked the Rotary Club for conferring the award to him. Collector T. Soundiah said the dramatic growth the country had witnessed in the last 20 years was due to science and technology. Dr. V. Jayapal, chairman, GVN Hospital, Tiruchi and Club secretary S. Ganapathi Subramanian spoke on the occasion.
Source: http://www.thehindu.com/news/cities/Tiruchirapalli/award-conferred-on-sivathanu-pillai/article31960.ece