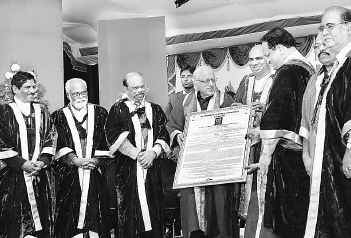 CHENNAI: M.S. Swaminathan, Chairman of the M.S. Swaminathan Research Foundation, A. Sivathanu Pillai, Scientist and Research Controller, DRDO, Baldev Raj, Director, Indira Gandhi Centre for Atomic Research, Kalpakkam, K. Balachander and Bharathirajaa, film directors and Donald Tinotenda Charumbira, Secretary General of the World Assembly of Youth, on Saturday received the honorary doctorate degree given by the Sathyabama Deemed University at the 14th Convocation. The Honoris Causa has also been awarded to Mohammed Ali Bin Rustam, Chief Minister of Melaka and president of the World Assembly of Youth.

V.N. Rajasekharan Pillai, Vice-Chairman of the University Grants Commission, said the higher education system had to equip itself for higher enrolment in the coming years. The present affiliating system is a "severe hindrance to quality and growth. We are continuing with a system that has become outdated," he said.
Out of 16,000 colleges affiliated to a few hundred university-level institutions, only about 5,000 are supported by the UGC. The others are not recognised for want of necessary infrastructure and other technical requirements, he said pointing out that the affiliation system required a thorough overhauling and even dismantling if necessary. Jeppiaar, Chancellor of the University, said Indian Space Research Organisation has tied up with Sathyabama Deemed University for development of human resources in rural areas.

The project envisages provision of tele-medicine and tele-education facilities, remote-sensing applications and improved agriculture with the help of technology in 300 villages. Out of over 700 students, over 430 have been selected in campus interviews and the remaining will be recruited in another two years in the Jeppiaar Software Industry.

P. Chinnadurai, Secretary and Correspondent, Mariazeena Johnson and Marie Johnson, Directors, Vijaya Rajeshwari, Director, Panimalar Engineering College, B. Babu Manoharan and B. Sheila Babu Manoharan, Directors, St. Joseph's College of Engineering and Marie Wilson and Regeena Wilson, Directors, Jeppiaar Engineering College, V.S.R.K. Mouli, Vice-Chancellor of the Deemed University, participated.
Source:http://www.hindu.com/2005/09/19/stories/2005091905870600.htm