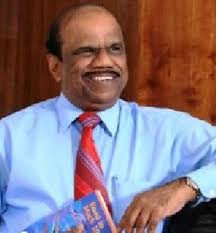 BrahMos Aerospace CEO and MD A Sivathanu Pillai today stressed the need for youth to have a vision to engineer a socially and economically sound nation.
"It is important for the youth to have a vision to engineer a socially and economically sound nation. They should strive for the betterment of the country," he said while delivering a lecture on 'How to empower India to make her a global leader' at the National Institute of Technology here.
He was speaking after inaugurating 'Tathva 2012', a three-day techno-management festival at NIT.
Pillai also advocated setting up sophisticated institutions which employ research as a method of teaching.
He said the main reason for brain drain from India is lack of opportunities for higher studies and facilities for higher research.
Later, addressing the eighth convocation of NIT, he said the educational quality and brain power of professionals in India is better than anywhere else in the world.
He told students that aiming high, acquiring knowledge and working hard and perseverance are the three things one needed to succeed in life and overcome problems
"The power of the mind is enormous and with determination, you will achieve what you aim for," he said.
Tathva 2012 would have exhibitions by Indian Space Research Organisation, Liquid Propulsion Systems Centre and Nuclear Power corporation of India Limited.
An automobile show 'Wheels', which will put on show a variety of the latest car models, will be part of the event.
About 1,500 students from various colleges in south India are participating in the event.

Source: http://www.business-standard.com/article/pti-stories/-youth-should-have-vision-to-engineer-socially-sound-nation-112101700667_1.html