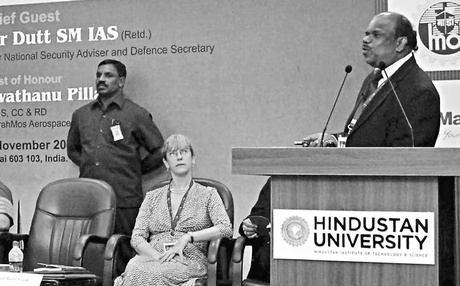 The air variant of the supersonic BrahMos cruise missile would be inducted into Indian Air Force's (IAF) fleet of next-generation Sukhoi Su-30MKI fighter aircraft by 2013, according to chief executive officer and managing director of BrahMos Aerospace, Dr A Sivathanu Pillai. Indian scientists were also working to develop hypersonic missiles that could travel at least five times the speed of sound.
Speaking to reporters after the inauguration of a conference on 'Defence Education in India 2012' at Hindustan University in Padur, he said, "The new missile is ready and the launcher is required to be placed in the aircraft... it is expected that in the next six months everything will be in place," he said.
The air variant was lighter by half a ton than the land and sea variant. The solid propellant rocket was developed by Brahmos Aerospace, a joint venture between India's Defence Research and Development Organisation (DRDO) and Russian NPO Mashinostroyenia. The BrahMos is a stealth supersonic cruise missile designed for launch from land, ship, submarines and air platforms. It travels at a speed of Mach 2.8 to 3.0 with a maximum range of 290 km and is capable of intercepting surface targets by flying as low as 10 m above the ground, even in mountainous terrain and hillocks.
Pillai said it was the only missile in the world faster than the speed of sound and had manoeuverable trajectory and could surprise the enemy.
Export Likely
The BrahMos was generating a lot of demand abroad, Dr Pillai said. However, the government wanted the missile to be deployed in the armed forces before thinking of exporting it. "We haven't ruled out exports and there has been lot of queries," he added.
Mach 5 Speed
Dr Pillai said Indian scientists were working on the development of air vehicles that could be manoeuvered at speeds beyond Mach 5 (6,125 kmph).
He stressed that universities could help develop technologies like Nano Hummingbird, developed by the United States Defense Advancement Research Projects Agency (DARPA), for indoor and outdoor surveillance missions. He said currently, Defence Research Development Organisation was focusing on technology incubation in universities.
Innovation Needed
India should have an inbuilt innovation and experimentation focus ingrained in higher education to adopt to defence needs, according Governor of Chattisgarh, former Deputy National Security Advisor and Defence Secretary, Shekhar Dutt.
He said Indian universities offering defence education should transform from a mass-based system to an exclusive and individualised model.
Dutt said the defence industry needed a base of this nature from which it could draw talent to meet its crying need.
Source: http://newindianexpress.com/cities/chennai/article1352352.ece