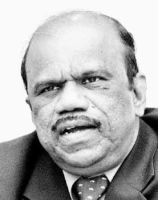 CHENNAI:The Moscow University of Security, Defence and Law Enforcement has honoured A. Sivathanu Pillai with the Order of the Peter the Great and he has been made lifetime Professor of the University.
Dr. Pillai, who is the Chief Executive Officer and Managing Director of BrahMos Aerospace Limited, was given the honour of ``Academician of the University,'' in Moscow on Thursday.
Dr. V.G. Shevchenko, president of the university, presented the role of honour recognising Dr. Pillai as an ``Academician'' for his outstanding contribution in the fields of ``defence, military and industrial complex and public management." The Role of Honour was presented at a specially arranged function by the Presidium of the University with academicians, designer-generals, industry captains and government officials present.
BrahMos, a supersonic cruise missile, is a joint venture product of India and Russia. It has been flight-tested 14 times and inducted into the Navy. It will soon be inducted into the Army.
Integrated minds

A press release from the BrahMos Aerospace said Dr. Shevchenko highlighted Dr. Pillai's contribution in making this joint venture a success and narrated his efforts in integrating the ``strategic minds'' of the two countries. The Presidium of Academicians praised Dr. Pillai's role in high technology cooperation between the research and development centres of the two countries in hypersonic systems, naval systems and naval stealth technologies.
In his thanks-giving speech, Dr. Pillai praised the strong relationship between India and Russia, which became the foundation for the success of the BrahMos venture.
He highlighted the global concerns on security, including threats posed by terrorism and weaponisation of space, and wanted India and Russia to work together to make the world a peaceful place.
He praised the efforts taken by Moscow University of Security, Defence and Law Enforcement in evolving counter-terrorism methods.
Source: http://www.hindu.com/2007/05/19/stories/2007051900551400.htm